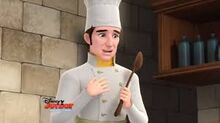 Chef Andre is the castle chef who appeared in the Sofia the First episode "Gizmo Gwen". He is voiced by Robin Atkin Downes.
Background
He is Gwen's father who once helped him around the kitchen. He care a lot for his daughter but doesn't like it when she invents gizmos because he too once invented something that ended in disaster. Since then he tries to persuade Gwen to just be a kitchen maid and stay away from inventing because he didn't want her to suffer the same embarrassment he had.
However he finally changed the way he saw his daughter's talents when she successfully built a bowl painting machine for Amber's berry banquet. For the first time ever he was proud of her, and she even repaired the pudding-serving invention he originally made, pointing out it had just been missing a screw.
Trivia
Andre is the typical stern father who tries to dissuade his child from goals he deems folly or silly, but in his defense he was only trying to protect his daughter from the same humiliation he endured
He was mentioned by Amber in "When You Wish Upon a Well".
Chef Andre is the third character that Robin Atkin Downes voices in Sofia the First, previously he has done the voice for Sir Finnegan in "The Silent Knight" and the Fisherman in "Mom's the Word".